See on Scoop.it – Thoughts from the Deep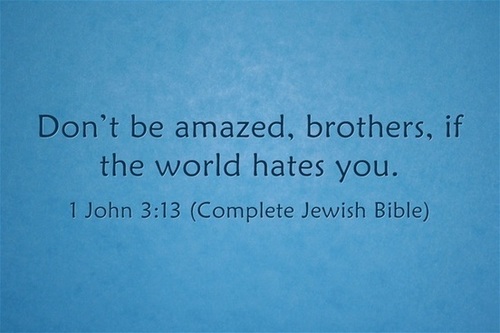 JD Rucker's insight:
1 John 3:13 (Complete Jewish Bible)
"Don't be amazed, brothers, if the world hates you."
This has been relevant at times throughout history. Yeshua ministered to a world full of hate. He was despised by many of His own people. Despite all of this, He pushed forward with delivering the message and spreading His Word. Christians were not meant to be loved by non-believers. In many ways, we're still being challenged within our own ranks to take on a more worldly view that caters to the masses but dismisses the words of the Lord. You will be hated. You will be tormented. This isn't the easy path. The path to salvation is full of dangers and hatred, but it leads to wonders and salvation. Walk with your eyes and heart open and be prepared to deflect (and in many cases, accept) as much hate as possible. There are those who will hate you today but if you're able to help one person find the way, every ounce of suffering was worth it.
See on judeochristianchurch.com