See on Scoop.it – Thoughts from the Deep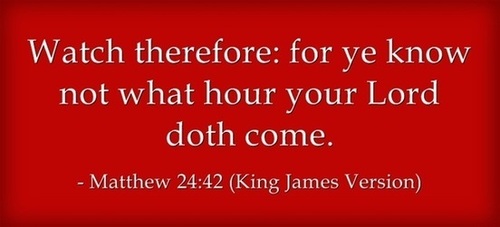 Watch therefore: for ye know not what hour your Lord doth come.
JD Rucker's insight:
This is both one of the most wonderful as well as one of the most misunderstood short verses in the Bible. It is a warning that Christians must make haste to find their salvation and continue to help other souls find there way as there is no time to waste. On the other hand, all of Matthew 24 talks about the signs that will signal the season of His second coming. Some use the verse to be naysayers to those who are promoting the idea that the time is truly at hand. They use the verse to downplay the signs and close people's eyes to the truth that we are very likely living in the end times today. No man knows the hour. No man knows the day. We can, however, surmise that we are in the season based upon what Matthew 24 and other verses tell us. Don't be caught off guard.
See on judeochristianchurch.com